Skip to Content
Juvéderm® Treatment in Clarksville, MD
Visit Bella Medical Aesthetics for Juvéderm® Treatment
At Bella Medical Aesthetics, we are proud to offer our Clarksville, MD patients Juvéderm® fillers to help reduce age-related volume loss in the face. As we know, the face loses elasticity and volume during the aging process. But don't fret! Juvéderm® can help restore lost plumpness, leading to a more youthful appearance. Dr. Beena Nagpal is pleased to offer Juvéderm® to those in the area looking to smooth fine lines, add volume, and contour skin through non-invasive and effective treatment. Call our office today to schedule an appointment or consultation.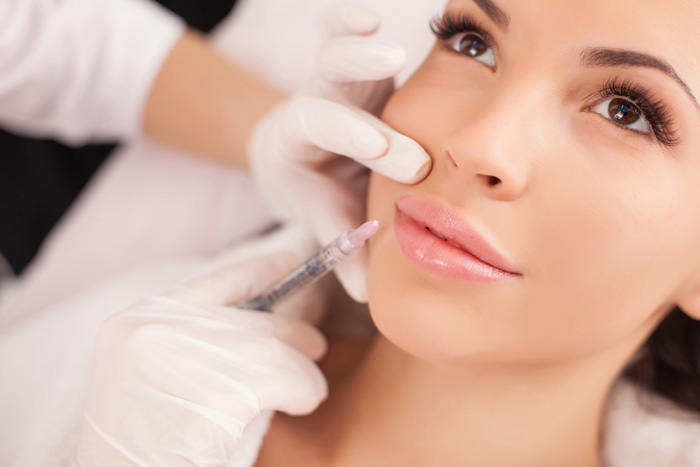 What is Juvéderm®?
Juvéderm® is a clear, smooth gel made out of hyaluronic acid (HA) Once injected, it helps reduce age-related volume loss in the face. Juvéderm Voluma® XC targets the cheek areas, while Juvéderm Ultra XC is injected for similar benefits around the lip area. Both gels are known as "fillers" because they help fill out the face where the aging process has worked to create less fullness.
Try Juvéderm® for Yourself Today!
At Bella Medical Aesthetics, we are proud to offer Juvéderm® and other innovative treatment solutions to those wanting to liven up their skin for a more healthy and youthful appearance. Our goal is to make every patient who enters our office leave with a new-found sense of confidence. We never treat two patients the same way, as we understand there is no one-size-fits-all to beauty. We vow to approach your treatment with the utmost compassion and attention to detail, so you leave us looking and feeling your absolute best. Between our fair prices and multiple specials, you can receive our cosmetic treatments no matter your budget! Contact us today to learn more about our treatment offerings, and we'll get started in delivering you high-quality care!
Where Should I Use Juvéderm® Fillers?
Juvéderm® can be used to restore or add volume to any area of the face needing a little extra love. Many of our patients come to our office asking for Juvéderm® fillers as a way to enhance and sculpt the lips. This treatment is also amazing at filling in folds, wrinkles, and creases for a natural-looking and long-lasting cosmetic solution.
How Long do Juvéderm® Treatments Take?
After discussing your goals and health history with Dr. Nagpal, the actual treatment can take anywhere from 15-60 minutes. The time needed varies, depending largely on which areas of your face are being treated, but Juvéderm® treatments can usually fit within a lunch break.
Do Juvéderm® Injections Hurt?
In most cases, injections will not hurt at all. Juvéderm® XC products contain lidocaine, a numbing agent that helps to minimize pain and discomfort significantly. If you have sensitive skin or are simply concerned about discomfort, you can request ice or a topical numbing cream beforehand to provide additional numbness. Once treatment is complete, you may experience mild swelling or firmness that will completely dissipate in less than a week.
Who Should Not Undergo Juvéderm® Treatment?
If you have a history of severe allergic reactions or are allergic to lidocaine or gram-positive bacterial proteins, which are used to create hyaluronic acid, you shouldn't request Juvéderm® treatments. The safety of Juvéderm® has not been determined in pregnant and nursing women, and patients with neuromuscular disorders such as ALS, myasthenia gravis, or Lambert-Eaton syndrome may be at increased risk of severe side effects. You're your safety, please be sure to speak to your health care provider before considering this treatment method.
How Long do Results Take to Appear?
Unlike many other cosmetic treatments where the results take ample time to gradually appear, Juvéderm® fillers produce instant results. After a single treatment, you'll leave the clinic with noticeably more facial fullness. Better yet, Juvéderm® is the gift that keeps on giving! This treatment will continue to improve the appearance of your skin for an additional one to two weeks as it works to soften and draw moisture to the treatment area.
How Long do Results Last?
Juvéderm® results vary based on the product used, the area treated, and the individual patient. Typically, Juvéderm® fillers will last anywhere from six months to a year. After this period, we encourage you to schedule an additional appointment, so you can reap the benefits of Juvéderm® all over again!
Does Juvéderm® Have Side Effects?
Like most cosmetic and medical procedures, Juvéderm® may cause side effects. Redness, pain, swelling, tenderness, discoloration, bruising, and itching at the injection site are the most common. Less common possible side effects include dry skin, infection, or rarely, unintentional injection into a blood vessel, which leads to more serious complications like vision problems, stroke, and scarring. In most cases, any side effects are mild-to-moderate and diminish on their own in 14 days or less.
Is Juvéderm® Approved by the FDA?
Yes! In fact, Juvéderm® is the only hyaluronic acid filler that is approved by the Food and Drug Administration (FDA).
What is Hyaluronic Acid?
Hyaluronic acid is a clear, gooey, naturally occurring substance in the body that works to deliver volume to the skin. As the main ingredient in Juvéderm®, hyaluronic acid is excellent at retaining water. By keeping your tissue well lubricated and moist, this power ingredient helps to add plump volume to different areas of the face without the need for surgery or other invasive procedures.