Skip to Content
Try Our Advanced Evolve Services in Columbia, MD
Bella Medical Aesthetics Helps You Look Your Best
At Bella Medical Aesthetics, we offer a variety of services designed to help you look and feel your best. Though confidence comes from within, it's always nice to feel good about your appearance. Our team can help you enhance your look and bring out your natural beauty. If you're looking to target trouble areas, reduce fat, tone the body, or improve your skin's appearance, our Evolve treatments might be the right choice for you. These services are designed to sculpt the body, improve muscle tone, and reduce cellulite, helping you achieve the body you've always wanted. Reach out to us today to schedule a consultation.
We Offer Three Non-Invasive Evolve Services
The Evolve line of treatments uses advanced technology to maximize patient results. Bella Medical Aesthetics offers three Evolve services – Trim, Tite, and Tone – all designed with a specific goal in mind. The innovative, hands-free solution uses multiple technologies to remodel skin, target fat tissue, and tone muscles. While each treatment focuses on a specific goal, you'll see improvements in all areas. In addition, each service option treats multiple areas of the body simultaneously to ensure your appointment is quick and easy. Read on to learn more about each Evolve treatment option and the results they can help you achieve.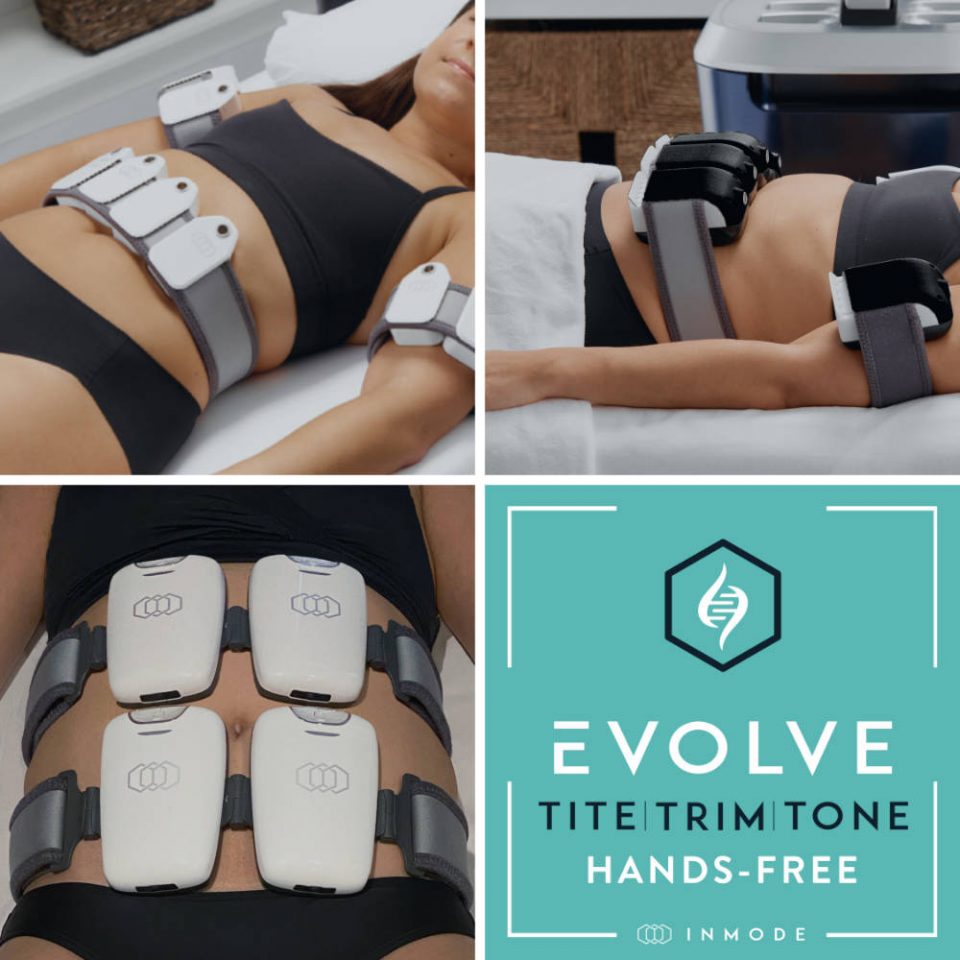 1. Evolve Trim
Evolve Trim is an advanced body treatment designed to reduce the appearance of cellulite and fat, while also improving the appearance of skin and its elasticity. The result is a slimmer, shaped, and toned appearance. Using a combination of radiofrequency energy, deep tissue, heating, and vacuum design, Evolve Trim produces maximum results over a series of treatments. Based on your situation and your desired results, your doctor will recommend an appropriate number of treatments to help you reach your goals.
2. Evolve Tite
Evolve Tite can help you achieve a younger-looking appearance by improving skin tightness and toning the body. It targets sagging and dimpled skin to create a smoother overall appearance. The advanced technology of the Evolve Tite system improves blood circulation to help you achieve these results. Evolve Tite is completely hands-free and can be used in multiple areas of the body simultaneously. All you have to do is sit back and relax while the technology works its magic.
How Does Evolve Tite Work?
The Evolve Tite treatment achieves results by using clinically proven radiofrequency technology to deliver volumetric heat to the skin's subdermal layers. The heat helps to smooth skin and reduce folds, leading to a more youthful appearance. It also features special technology to ensure no areas of the skin are under or over-treated, which helps to maximize results and produce consistent outcomes. You'll feel the heat of the radiofrequency throughout the treatment, but most patients find it comfortable, like a hot stone massage. However, if you feel uncomfortable at any time, you can pause treatment with the Patient Call button, until our staff can make adjustments to ensure your comfort.
3. Evolve Tone
Evolve Tone is a hands-free body sculpting solution designed to enhance the shape and tone of your body. Each treatment is customized to meet your unique needs ensuring you get the results you want. The best part is, we can treat multiple body areas at one time, making treatment quicker and easier for you. Your doctor can build a personalized plan of treatment times and frequency based on your needs. You'll begin seeing gradual sculpting results after your first few sessions.
How Does Evolve Tone Work?
Evolve Tone uses electrical muscle stimulation (EMS) to cause your muscles to contract repeatedly. These repeated muscle contractions work to tone and shape the muscles, resulting in a more sculpted appearance. During the treatment, you'll feel your muscles contract, much like how they would during a workout. Each session is quick and easy, and you'll be able to resume your normal activities immediately after.
What Areas Can Evolve Treatments Target?
Perhaps the best thing about the advanced technology of Evolve is its ability to target multiple areas of the body simultaneously. The fat and cellulite reduction treatments are used by patients to sculpt and shape the body as well as tone and strengthen muscles. Many patients utilize the treatments in common trouble areas, such as the back, lower abdomen, legs, arms, and more.
Contact Us to Book Your Appointment
Are you searching for a way to improve your appearance your body, improve muscle tone, or rejuvenate skin? If so, the Evolve treatments are right for you. Bella Medical Aesthetics in Columbia, MD provides these advanced treatments and other services at our medispa. We understand that stubborn body fat can persist even with consistent diet and exercise. Together with your doctor, you can build a plan to help you reach your goals. Contact us today to book a consultation!